Money
Under mounting pressure, Uber founder Travis Kalanick resigns as CEO
In the wake of founder Travis Kalanick's resignation, the company will be intent on steering a steadier course free of controversy that could hurt its reputation.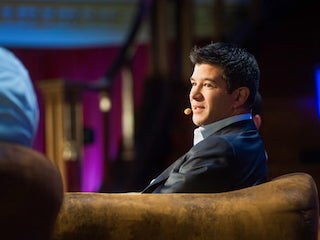 Update: According to new reports, an internal Uber petition to reinstate former CEO Travis Kalanick has garnered more than 1,000 signatures.
Uber founder Travis Kalanick has resigned as CEO of the ridesharing company.
Kalanick decided to step down on Tuesday night following intense pressure from five major investors, The New York Times reported. But not all Uber employees agree with that decision.
News of the 40-year-old founder's departure follows mounting criticism over the way the company has been conducting its business, and comes just a few days after the funeral of his mother who died in a boating accident at the end of last month.
It is believed that Kalanick will stay on as a member of Uber's board of directors but it's not clear at this stage who will lead the company.
In a statement seen by the Times, Kalanick said: "I love Uber more than anything in the world, and at this difficult moment in my personal life, I have accepted the investors' request to step aside so that Uber can go back to building rather than be distracted with another fight."
According to reports, Kalanick's decision followed a revolt among shareholders who told him earlier on Tuesday that new leadership was required for the company to move forward.
Kalanick, who founded Uber in 2009, reportedly received the demand by letter while in Chicago. After several hours of discussions, he finally agreed to leave the top job.
While Uber has always faced plenty of criticism about how it conducts its business, matters appeared to take a turn for the worse earlier this year when a former employee made allegations of a company culture where sexual harassment and gender discrimination was rife.
Keen to clean up its act, the company conducted an investigation into its workplace practices, which culminated in the firing of 20 employees and the release of a report last week that recommended Kalanick play less of a major role in the business.
In response to the report, Uber's founder began an indefinite leave of absence before finally resigning on Tuesday.
Besides concerns about its workplace culture, the company is also embroiled in a legal battle with Google spinoff Waymo over the alleged theft of autonomous-car tech. It's also facing a probe by the Department of Justice following accusations that it used secret technology to hide its vehicles from officials in some cities where attempts were being made to cut down on the service.
Uber's investors will be hoping new leadership will set the company on a steadier course free of controversy, but even the decision to force out Kalanick has proven controversial. As originally reported by Recode, Uber employees have circulated a petition asking the company's board to keep Kalanick onboard in some capacity, and that petition has already garnered more than 1,000 signatures.
"Nobody is perfect, but I fundamentally believe [Kalanick] can evolve into the leader Uber needs today and that he's critical to its future success," read the email circulated within the company. "I want the Board to hear from Uber employees that it's made the wrong decision in pressuring Travis to leave and that he should be reinstated in an operational role."
While Uber has not commented on the petition, a source told the Los Angeles Times that the petition is legitimate, and began circulating Wednesday. Management is said to not yet have addressed the matter. We will continue updating this story as we learn more.